OUR IMPACT
Entrance canopy lighting running costs reduced by 42%
Overall maintenance costs considerably reduced
CO2 emissions reduced by over 40%
THE BRIEF
The Borders General Hospital is NHS Border's acute inpatient hospital, located near Melrose in the Scottish Borders. New lighting was required for several wards, corridors, offices, escape stairs and the hospital's entrance canopy, as well as a complete redesign of their outside lighting. The client wished to save energy and reduce its carbon footprint if possible, whilst at the same time considering potentila for reducing ongoing maintenance costs.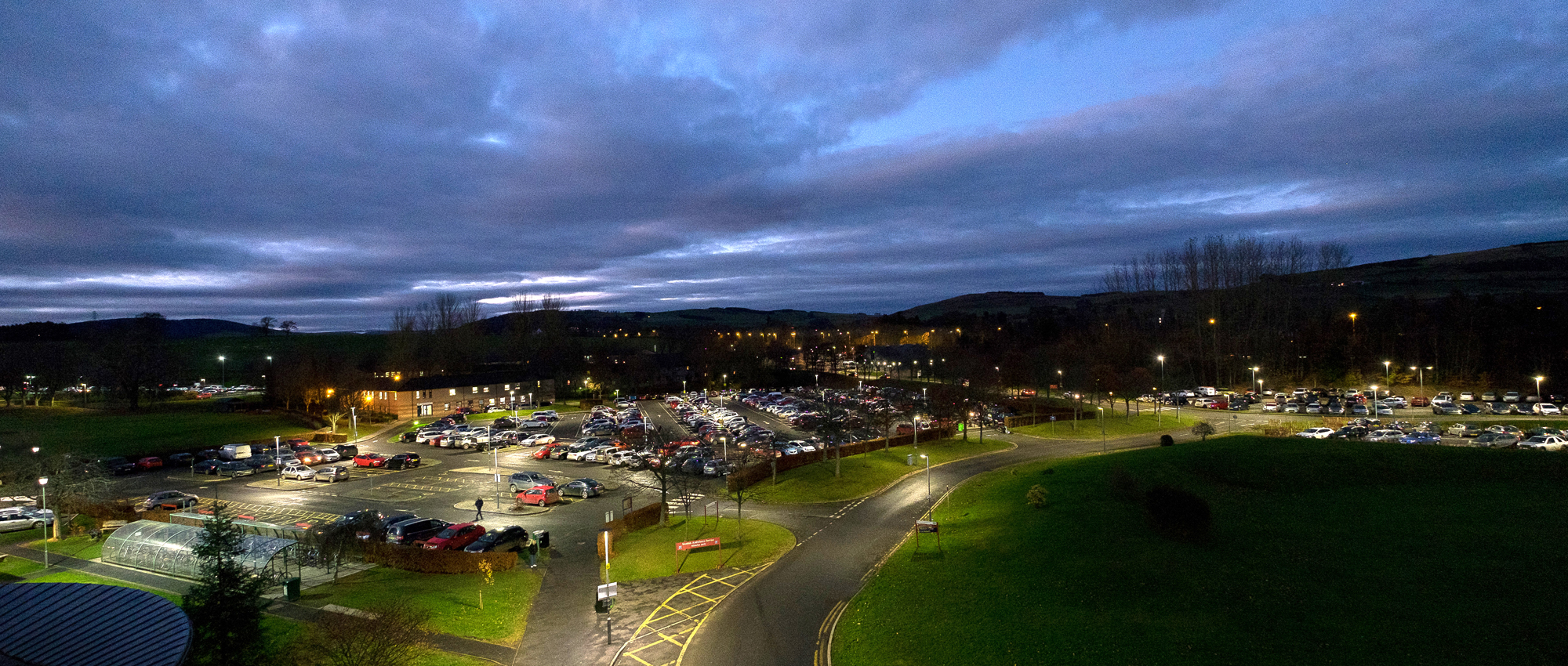 THE SOLUTION
Our team carried out a thorough site survey of the wide-ranging areas involved and worked alongside the NHS Borders Hospital Estates Department to fully understand the requirements of the lighting scheme, not only from a performance perspective but also understanding visual requirements and budgetary constraints.
Hospital interior lighting solutions
Following intensive research and consultation with our manufacturing partners we determined which luminaires would be best equipped for each area, consideration was given to how the area would be used and when, visual impact and feeling, energy savings and any necessary guidelines and health and safety measures that need to be considered or adhered to in a hospital environment. For example, in the Recovery area we recommended Thorlux Skydome recessed module with domed polycarbonate diffusers, as the Sky Dome has been vigorously designed and tested to exclude dust, dirt and flies.
If a suitable product was available and deemed best fit, we used LED technology for it's energy saving characteristics, otherwise the latest efficient lamp and electronic gear combinations were used for the wards, offices, corridors and escape stairs. LED night lighting was proposed for the wards; we selected Thorlux LED nightlights which consume less energy than their compact fluorescent equivalents and have a considerably longer life, placing less stress on the batteries to help improve their life.
Hospital entrance canopy and exterior lighting solutions
We also provided a complete redesign of the hospital's outdoor lighting using LED luminaires. Lighting design calculations for all the areas were carried out using DIALux lighting design software to ensure that the correct amount of light was provided. This software program proved to be particularly useful for the design of the entrance canopy lighting. The canopy had been identified as a location where LED lighting could make the most impact in terms of visual impact, running costs and energy savings.
We recommended Ghidini Maxi Maestro LED floodlights to replace the existing High Pressure Sodium floodlights and Designplan Pantheon LED amenity wall lights to replace the High Pressure Sodium bulkheads. Using the DIALux software we were able to model the canopy and walkway and demonstrate that the new LED systems could provide lighting that was fit for purpose.
As with each project we take on, we provided NHS Borders with a comprehensive report on each area and the recommended lighting schemes, with a full breakdown of lighting performance, luminous emittance, technical specifications and data sheets.
THE RESULTS
The running costs of the entrance canopy lighting were significantly reduced by 42% and maintenance costs were also greatly reduced thanks to the introduction of 50,000+ hour life of the chosen LED luminaires. We also achieved a reduction in carbon emissions of over 40%.
Areas covered included hospital corridors, fire escape stairs, recovery area, hospital management offices and corridors, physiotherapy suite and gymnasium, main entrance, corridors, ward and ward shower, entrance canopy, car park and access road lighting.
FEATURED PRODUCTS
The Borders NHS Hospital scheme included Thorlux Skydome recessed module with domed polycarbonate diffusers and LED Night Light recessed or surface LED downlighters.

STARTING A PROJECT OR NEED A QUOTE?
Do you have a project you would like to discuss or need a quote? Please call us on 01892 835 211, email us or fill out our contact form to get in touch.
CONTACT US
BE THE FIRST TO HEAR
Sign up to be the first to hear about new products, lighting innovations, our latest case studies and other insights.