UV-C DISINFECTION SOLUTIONS
UV-C lighting delivers effective, proven disinfection of air, surfaces and objects, reducing the opportunity for bacteria and viruses to spread. With the safety and cleanliness of workplaces, healthcare and educational settings more vital than ever in the wake of the Covid-19 pandemic, UV-C lighting provides protection and reassurance where it is needed most.
Marwood Electrical are qualified UV-C partners with Philips, providing bespoke UV-C lighting solutions that are appropriate to your setting. Whether a primary school, university, restaurant, beauty salon, gym, indoor sports facility, office or factory, there are a range of UV-C lighting solutions available to you to provide peace of mind and tangible results.
Explore our UV-C lighting approach, products and case studies below and contact one of our lighting experts today to help you explore the right UV-C lighting solution for your organisation.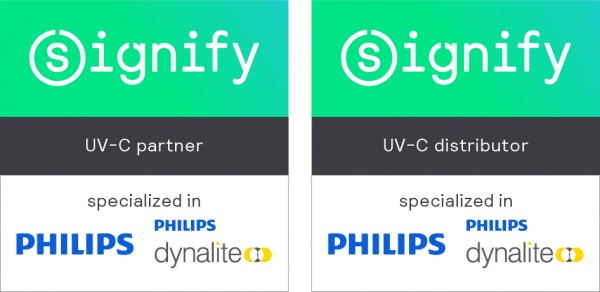 UV-C LIGHTING PROTECTION FOR EVERY WORKPLACE
The period since March 2020 has been unprecedented in all workplaces and UV-C lighting can provide enhanced confidence about returning to normal working practices across all settings as part of a multi-disinfection strategy.
In laboratory testing, Signify's UV-C light sources reduced SARS-CoV-2 virus infectivity on a surface to below detectable levels in as few as 9 seconds.
Our Philips UV-C disinfection upper air wall mount luminaires inactivated 99.99% of SARS-COV-2, the virus responsible for the COVID-19 disease, in the air of a room within 10 minutes. At 20 minutes, the virus was below detectable levels 1
UV-C disinfection is applicable to most workplaces including: 
Education: Nurseries, schools, colleges and universities
Retail: Shops, banks and food outlets
Fitness and wellbeing: Hair and beauty salons, gyms and indoor sporting venues
Hospitality: Restaurants and washrooms
Sports and Events: Communal indoor spaces, bars, restaurants, venues.
Travel: Airports, waiting spaces and vehicles
Office: Offices and factories
For a useful range of webinars featuring further insights into the impact of UV-C on these applications, visit our product partner Philips Signify's website.
"We are proud to be the first professional sports team in the UK to use UV-C disinfection lighting technology, and we expect to see it widely utilised in future across the sports and events industry."
Laurie Dalrymple, Chief Executive Officer, Harlequins
1 Source: Philips. According to results obtained from a laboratory test conducted by Innovative Bioanalysis, a CAP, CLIA, AABB Certified Safety Reference Laboratory, in a room with sufficient air circulation.
UV-C PRODUCT SPECIFICATIONS
The team at Marwood are experienced in assessing and planning UV-C lighting solutions to suit different spaces, giving consideration to room size and geometry, and how the working space is used to deliver safe, effective solutions.
All UV-C solutions are specified with appropriate safeguards, whether fully housed within a safe unit (Portable air disinfection), mounted at optimum height in a space (Upper air disinfection) or with automatic cut out switch (Chamber object disinfection), to ensure they can be operated safely.
Our product options include: UV-C disinfection portable air unit, upper air ceiling mounted, upper air wall mounted and stand alone object disinfection chambers.
UV-C DISINFECTION: PORTABLE FLOOR STANDING AIR UNIT
UV-C DISINFECTION: UPPER AIR CEILING MOUNTED
UV-C DISINFECTION: UPPER AIR WALL MOUNTED
UV-C DISINFECTION: ACTIVE AIR WALL & CEILING MOUNTED
UV-C DISINFECTION: CHAMBERS
UV-C DISINFECTION: SURFACE
UV-C TECHNOLOGY EXPLAINED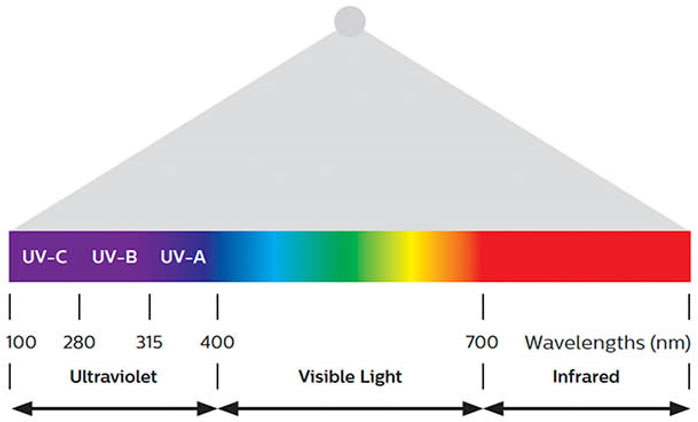 UV-C radiation is a proven disinfectant for air, surfaces and objects and when applied safely and effectively can help reduce the risk of the spread of infection through bacteria and viruses.
UV light is composed of UV-A, UV-B and UV-C and is invisible to the human eye. UV-C light is helpful as it is extremely effective in breaking down the DNA and RNA of micro-organisms, so that they cannot replicate and cause disease.2
UV-C has been used safely and effectively in specialist settings for over 40 years3 and due to the continued development of this technology it can now be deployed to other settings, including offices, schools, hospitality and healthcare.
Marwood have over 60 years' experience in specialist lighting solutions, and are Philips qualified UV-C specifiers and distributors, providing comprehensive advice on UV-C specific projects as well as building UV-C lighting solutions into broader lighting schemes.
For more information on UV-C air, surface and object disinfection, contact one of our sales team.
.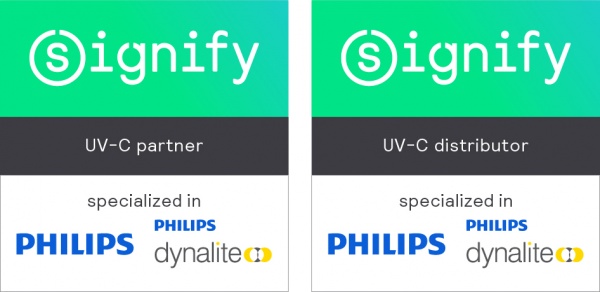 2 Source: Philips. A comparison of pulsed and continuous ultraviolet light sources for the decontamination of surfaces. McDonald K.F., Curry R.D., Clevenger T.E., Unklesbay K., Eisenstark A., Golden J., Morgan R.D. IEEE Trans. Plasma Sci. 2000;28:1581–1587. doi: 10.1109/27.901237.
3 Source: Philips. EPA Report, "Building Retrofits for Increased Protection Against Airborne Chemical and Biological Releases" Pg. 56.
UV-C FREQUENTLY ASKED QUESTIONS
Explore further detail below in answer to some of the most common questions about UV-C lighting solutions.
UV-C LIGHTING PROJECTS
Explore an example of UV-C disinfection solutions below, showcasing how UV-C disinfection solutions are being implemented at our own Head Office in Paddock Wood, Kent.
STARTING A PROJECT OR NEED A QUOTE?
Do you have a project you would like to discuss or need a quote? Please call us on 01892 835 211, email us or fill out our contact form to get in touch.
CONTACT US
BE THE FIRST TO HEAR
Sign up to be the first to hear about new products, lighting innovations, our latest case studies and other insights.