OUR IMPACT
Enhanced safety for our team and visitors
Improved confidence for return to work following Covid-19 restrictions
Projected reduction in workplace infections: Covid-19 and other common viruses
Delivered in concert with programme of lighting upgrades for complete solution
THE BRIEF
Our head office in Paddock Wood, Kent, is home to our office, lighting design, warehouse and distribution teams. Over 36,000 sq.ft of warehouse space, combined with our state-of-the-art lighting showroom, office space and meeting rooms, is usually a hub of activity throughout the year.
Since March 2020, with the impact of the Covid-19 pandemic, the use of our various workspaces has been dramatically changed and challenged, and while we have adapted swiftly and effectively to working from home, the whole team were keen to return to the office once it was safe to do so. Our specialist lighting account managers and lighting designers also wished to start to make use once again of the lighting showroom and meeting spaces with more frequency as restrictions eased.
With our team and visitor safety our number one priority, we were keen to embrace UV-C lighting for disinfection technology from our Partner, Philips, to provide additional protection and peace of mind for all. As part of a planned lighting upgrade project across our site, we therefore took the opportunity to adapt our plans to build in UV-C disinfection units as part of this programme.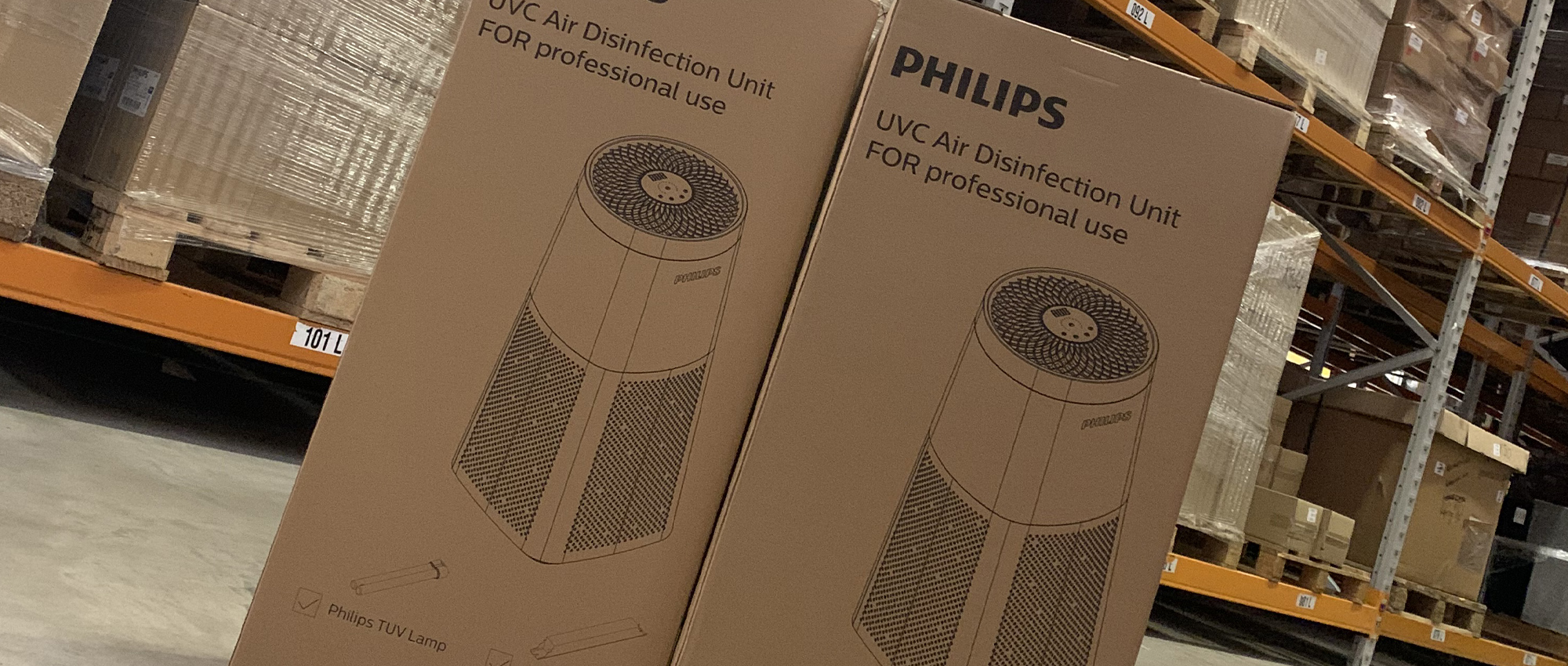 THE SOLUTION
As part of a broader scheme of lighting updates planned at our Paddock Wood head office, we have started a phased approach to implementing UV-C lighting for disinfection throughout our site, as part of a multi-disinfection strategy. 
In order to specify the appropriate solution for safe and effective deployment of this new technology across our site, we initially undertook a full site survey and considered the right solution from our UV-C disinfection portfolio from Philips. Having identified the appropriate solutions, we moved immediately to place portable air disinfection units into our office and meeting spaces. Our phase II developments are in motion, and will see upper air UV-C disinfection units installed in our larger spaces, with the portable units redeployed to smaller spaces to offer maximum protection.
Safety and effectiveness were of paramount importance in our consideration of UV-C technology. With the exception of our regional sales teams who work remotely, our whole business operation runs from one site, so since the outbreak of the pandemic we have naturally been extra cautious and vigilant in our risk assessments, as the impact of a Covid-19 outbreak could be significant. 
We take our commitment to the safety and wellbeing of our team seriously, and were keen to put in place as many measures as we could to keep people as safe as possible as they returned to work, and with our eyes open to the possibility of future similar issues arising and what we can learn from the Covid-19 pandemic.  
THE RESULTS
The team at Marwood have been universally positive in their response to the installation of the portable air disinfection units, as well as to the planned phase two developments. 
The general sense from the team is that they are unobtrusive,  discreet units that generate minimal noise and therefore do not impact the function of the office. Moreover, the team feel more confident in coming in to the office, feeling reassured that all possible steps are being taken to keep them safe, that the air they were breathing was cleaner and safer, enabling them to fully enjoy all the benefits of being back in the office, with reduced concerns about the possibility of a Covid-19 infection. 
STARTING A PROJECT OR NEED A QUOTE?
Do you have a project you would like to discuss or need a quote? Please call us on 01892 835 211, email us or fill out our contact form to get in touch.
CONTACT US
BE THE FIRST TO HEAR
Sign up to be the first to hear about new products, lighting innovations, our latest case studies and other insights.