6 May 2021
Illuminating an Iconic Statue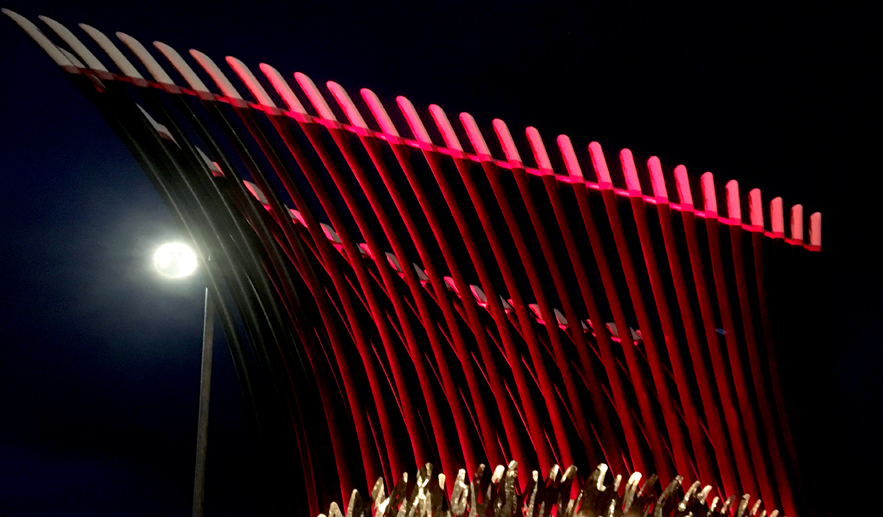 Lighting up Architecture in Glasgow
We take pride in our approach to lighting design and innovation, so when we were approached by Inverclyde Council in Scotland to provide a solution for The Endeavour sculpture in Port Glasgow, our team were thrilled to unleash their creativity. The solution we designed provided a themed lighting effect that compliments the structure and has enhanced the visual appearance of the entrance to Port Glasgow. 
The technical support, expert knowledge and complete project management service we received from Marwood was first class and resulted in the successful completion of this project. We are very pleased with the end result.
The iconic Endeavour statue, created by International Scottish artist, Malcolm Robertson in 2012, sits proudly in front of Port Glasgow's Town Hall. It celebrates the town's proud ship building heritage and features a prow of a ship ploughing through waves.  It was erected in 2012 as part of a revitalisation project for the town centre but the local council wanted to replace the lighting to improve the sculpture's visual appearance and light quality.
You can read more about The Endeavour case study here, or head over to our Projects page to see more of our work.
STARTING A PROJECT OR NEED A QUOTE?
Do you have a project you would like to discuss or need a quote? Please call us on 01892 835 211, email us or fill out our contact form to get in touch.
CONTACT US
BE THE FIRST TO HEAR
Sign up to be the first to hear about new products, lighting innovations, our latest case studies and other insights.